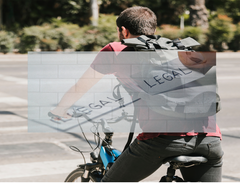 Legal requirement for an electric bicycle in the UK
The legal age to ride an electric bicycle is 14 or over. However, certain requirements are set by the UK government so the riders can ride their bicycles safely and legally.
Electric bicycles are also known as EAPCs or (electrically assisted pedal cycles. No license, registration nor insurance is required by the UK Law for them to be ridden.
But what is a EAPC?
This is a bicycle that has been adapted with a motor and a battery to assist individuals while pedaling.
An EAPC must have pedals that can be used to propel it. It must have a maximum power output of 250 watts hour not be able to propel the bike when it's travelling more than 15.5mph or 25km/h
An EAPC can have more than 2 wheels (for example, a tricycle).
As required by the UK Law it must show either:
the power output or the manufacturer of the motor
It must also show either:
the battery's voltage or the maximum speed of the bike.
Where can you ride your Electric Bike?
As it is classified as a normal pedal bike, you can ride on any roads which are suitable for normal bicycles.
To see Greenlance Electric Bike batteries and Accessories Click Here