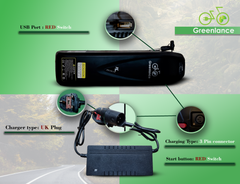 We always ask and wonder if our battery will last us long enough. We are going to reveal ideal ranges on some of our batteries.
When you buy an electric bike, it is important to know how long the battery life is. This article talks about the range of an Ebike and how long the battery will last depending on the motor and battery size. The UK Law requires any motor over 250Watts to be registered as a motor vehicle due to the speed limits and safety precautions.
We have many customers with different background and profession. One of them is Stephen. He is a food deliver driver, driving for more than 35-40 miles per day. He bought 2 of our batteries to ensure high power throttle (high speed) and enough energy to last him trough the day. he uses a powerful motor and the two batteries are more than enough to get him going!
Following Stephen Case E-Bike Battery 48v 20AH would ensure approximately 100 km range at 250Watts motor. One of our exclusive Premium lithium-ion electric bike battery with Samsung Cells ensures outstanding quality with 2 Years Warranty and 1500 Charging cycles. Have a look at our battery by clicking Here.
A typical Ebike starts with a 250-watt motor. 250-watt motors have a range of 45
miles when used with 48Volts and 13Amps battery. They are the most common batteries found on the streets due to price and style compatibility. The higher the AH (Amp-hours) the higher range it can produce.
250 Watts motor consumes 250 Watts per hour at full speed.
500 Watts motor consumes 500 Watts per hour at full speed
Ebike Battery 48V 13AH has 625Watt power meaning that a 250Watts motor with a 48v ebike battery at 13AH will drive for 2.5 – 3 hours at full throttle without stopping or in other words 40+ miles. There are options for peddling assist installation and motor controller which further increases the driving range of the electric bike.
An electric bike battery is a crucial component of an electric bike. It provides power to the motor in order to turn the wheels and propel the bicycle. The battery is rechargeable, so it can be used over and over again. Electric bike batteries are made up of cells that store energy. The 18650 lithium cells are connected together in series, which means that all of the cells must be charged before you can use your electric bike again.
Charge you E-Bike Battery 2.5 time faster with Greenlance Fast 5A Charger
The life span of an electric bike battery depends on how much it is used and what kind of cells are inside it. However, an electric bike battery replacement can be purchased and taken on the way, or carry your bike battery charger to charge it while working or parked.
To see Greenlance Electric Bike batteries: Click Here