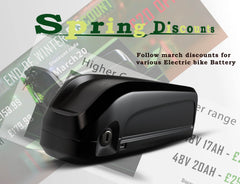 Electric Bike Battery 10AH & 13AH
The E-Bike Battery 48v 13AH is a high-capacity battery designed for electric bikes. With a voltage of 48 volts and a capacity of 13 ampere-hours, this battery is capable of delivering a high level of power and energy to an electric bike. The battery is made of lithium-ion, a technology that is well-known for its high energy density, long cycle life, and reliability. The battery's high capacity and voltage allow it to provide a longer range than lower capacity batteries, which means that riders can travel farther on a single charge.
The E-Bike Battery 48v 13AH has a fast charging time and can be fully charged in a few hours with a compatible charger. The battery also features a BMS (Battery Management System) that protects the battery from overcharging, over-discharging, and overcurrent. The BMS helps to prolong the battery's life and ensure its safety. With its high capacity and voltage, the E-Bike Battery 48v 13AH is an ideal choice for riders who need a medium-range and high-performance electric bike battery.
March Discount Code:
MARCH20
Greenlance is offering a March Sales Discount on its electric bike batteries. Customers can purchase any electric bike battery from the store and get a discount of £20 until 12/03. This discount is applicable to the medium-capacity E-Bike Battery 48v 13AH and the lower-capacity E-Bike Battery 48v 10AH. Both batteries are made of lithium-ion and feature fast charging times, BMS (Battery Management System), and reliable performance.
Click HERE for Greenlance electric bike battery discounts:
This March Sales Discount is an excellent opportunity for riders to upgrade their electric bike batteries or to buy a spare battery for their bikes. The discount is available for a limited time only, so customers are encouraged to take advantage of this offer before it expires. With the discount, customers can get high-quality electric bike batteries at an affordable price, making it an excellent value for their money. Visit Greenlance store now and take advantage of this special offer while it lasts!