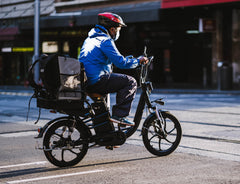 The Complete Guide to Building the Perfect EBIKE for your Job as a Food Delivery Driver
What is an E-BIKE?
An e-bike is a bicycle with an attached electric motor. The motor is powered by a battery that is charged using a power outlet. An e-bike typically has a range of 30 to 50 kilometres on one charge, and can reach speeds of up to 25 km/h. An Electric bicycle is different from electric mopeds or motorbikes which are mainly powered by electricity, In the other hand E-Bikes supplement pedal assistance which makes Electric Bicycles much easier to reach high speeds and tackle steep roads and terrains. Why should you use Electric Bike for food deliveries? Electric bikes are becoming more and more popular in the UK. They are seen as a convenient and environmentally friendly way to get around. For example, they can be used for deliveries in London where there is a congestion charge for cars. The increase of fuels mean that E-BIKE drivers are able to continue doing their jobs in a much cheaper way, and it is much easier to avoid traffic during the busy times.
Building the perfect bicycle for your job as Food Delivery Driver
Bicycle Wheel:
Bikes with 27.5-inch wheels are usually best for riders who want a bike that can handle any terrain. They are also best for people who want to ride fast. Which makes it perfect for a Food Delivery Driver.
Battery:
Choosing a good E-Bike Battery with enough voltage and capacity and be a difficult choice, Greenlance offers different variations of E-Bike batteries suitable for different individuals. The best choice for food delivery driver is 48V 17AH and 20AH battery, with enough capacity to ride a solid50-60 miles with a 250W motor. It is always good to get yourself 2 E-Bike batteries so that you can be our delivering food for longer. Motor: We recommend a 250W rear hub motor for you bicycle as a start-up, however a Bafang Mid-Drive motor is always the best option. Motor up to 250W can be freely ridden in the UK, anything beyond that needs to be registered and you also need a license if you plan to ride it on the road.
To see options that will help with with your choice, take a look at Greenlance Catalogue of E-Bike Batteries and Accessories. (Browse Here)
Bonus:
We know how important it is for a Food Delivery Driver to be on the road as long as possible, this is why we have 5A Fast E-Bike Charger, which charger a 48V 13AH E-Bike battery in around 2.5hours.Summary:Electric bikes are a fantastic option for those looking to increase the money they make from delivery work. This is because they are cheaper to buy/build, easier to ride, and less likely to break down. They also have the added benefit of being environmentally friendly. Greenlance offers free support and E-Bike conversion option, if you need your Bicycle converted into an E-Bike, then please come forward and we will do our very best to satisfy your needs. 

Get In Touch at: Info@Greenlance.co.uk - We respond in a matter of minutes
Browse our Electric Bike Conversion HERE