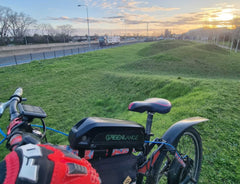 "Electric bike batteries for long rides"
Looking for a high-range e-bike battery to power your adventures this spring? Look no further than Greenlance! Our 48V 17AH and 48V 20AH lithium-ion batteries provide excellent performance and endurance, perfect for long rides and hilly terrain. And this Easter, you can save even more with our EASTER10 promotional code, giving you 10% off all batteries. With the discount, you can enjoy even more miles on your e-bike without breaking the bank. So upgrade your ride with Greenlance's high-range e-bike batteries and take advantage of our Easter promotion today!
High Quality Electric bike batteries:
If you're in the market for a high-quality electric bike battery, you may be wondering whether to choose Samsung lithium-ion cells or Chinese cells. While Chinese cells may be more affordable, Samsung cells offer several advantages that make them the better choice. Samsung is a well-known and reputable brand in the tech industry, and their lithium-ion cells are known for their durability, efficiency, and safety. Compared to Chinese cells, Samsung cells have a longer lifespan, higher energy density, and are less prone to overheating and other safety issues.
That's why we're excited to offer a limited edition Greenlance Samsung cells battery, featuring 48V 20AH capacity and top-of-the-line Samsung lithium-ion cells. With this battery, you'll enjoy longer rides, faster charging times, and greater peace of mind knowing that your battery is reliable and safe. And with our EASTER10 promotional code, you can get 10% off this already affordable battery, making it an even better value. So why settle for Chinese cells when you can upgrade to the best with Greenlance's Samsung cells battery? Order now and experience the difference for yourself!
"E-bike battery recycling options"
As e-bike popularity continues to grow, so does the need for responsible e-bike battery disposal. The good news is that there are e-bike battery recycling options available to help reduce waste and minimize environmental impact. Greenlance is committed to promoting sustainable practices, and we're proud to partner with Cawleys, a leading recycling and waste management company, to provide recycling options for our customers. With Cawleys, you can safely dispose of your old e-bike batteries, knowing that they will be recycled responsibly and efficiently.
At Greenlance, we believe that it's our responsibility to help our customers make eco-friendly choices whenever possible. That's why we're excited to offer a range of sustainable e-bike products and services, including battery recycling. And with our partnership with Cawleys, it's never been easier to dispose of your old e-bike batteries in a responsible way. Visit our website at www.greenlance.co.uk to learn more about our e-bike battery recycling options and other sustainable e-bike products. Together, we can help reduce waste and promote a cleaner, greener future for all.