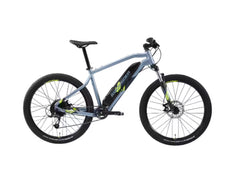 Electric bicycles can be costly when wanting to purchase a brand new from the store. The best electric bikes 2022 in the UK are sold from famous brands such as:
Rock rider
Bosch
Giant
Pure Electric
The biggest disadvantage of these bicycles comes with the range, speed and price that they come with.
Typical bicycle from these electric bicycle brands come with 7 to 10AH battery. The stock variant of the bicycle comes limited, due to the high price of the electric bike battery. An upgrade for 16+ AH battery (AH is the indicator of the Battery Capacity), Would cost at least £150 on top of the electric bike price.
Best budget electric bike UK:
A budget electric bike is currently offered in the UK by the Outdoor specialist brand Decathlon.
27.5 Inch Electric Mountain Bike E-ST 100 – Blue is the best electric bike under 1000 UK. There are cheaper electric bike but this bicycle comes straight from the store, providing warranty and free service until the warranty is active. but this bicycle comes straight from the store, providing warranty and free service until the warranty is active. They allow install payments in the course of 3 months for £333.33 per month ending at £1000 for the whole bicycle.
Cheapter Alternatives could be found on e-commerce platforms like Amazon, where their bicycles have similar motors and batteries, ensuring 20 miles at a speed of 25km/H.
E – Bike Conversion Kit as an Alternative:
To begin with we are going to explain what is electric bike conversion kit:
The conversion kit includes electric bike motor with different Watt power (the higher the watts the faster the speed) that is installed onto the rear or front wheel. Its power is controlled by a throttle or thumb throttle installed on the bar which send signals to a controller that controls the electric motor. Please refer to our previous blog (click here) for further info about best e-bike conversion kits.
 The current electric bike conversion kits are priced between £150-200 for rear hub motors (cheaper option) and £300+ for a mid-drive motor.
Another essential part when converting the bicycle is the electric bike battery. They come with different voltage such as 48v ebike battery. The electric bike battery price depends on the voltage, amperage and cells type.
Greenlance specialises in 48V 10/13/17/20 AH batteries and they can be found HERE. They are one of the best e-bike battery suppliers based on customer service, products and ranges. Currently planning to expand on building custom packs, this will provide you with many more options to convert your bicycle into an electric one.
The electric bike battery price of Greenlance Batteries is:
Please stay tuned for price offers monthly on our newsletter, where we try to help people educate and electrify their journeys, experiencing as many benefits as possible.